48HourPrint.com Reviews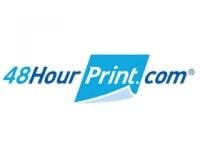 48HourPrint.com is an online printing website which promises their customers the utmost respect to their printing deadlines, saying that they have the ability to turn your printing jobs around in as little as 24 hours.
How Does It Work?
According to their website, unlike other online printing companies, the mission of 48HourPrint.com is to specialize in high quality printing services which can be turned around extremely quickly.
Their company says that they understand how many printing jobs may be needed quickly, and how critical it is for customers and businesses to be able to feel confident about receiving these printing materials on time, which is why they provide their customers the guarantees they do.
They offer their customers both 48 Hour Turnarounds and 24 Hour Turnarounds, depending on the type and number of products you order. For customers who require a large volume printing job, or jobs that require "intensive finishing operations," they offer a 5 Day Turnaround. &nbsp
&nbsp
Orders that qualify for these fast turnarounds are basic orders which can be done using their pre-approved templates. If you are interested in a unique, custom order job, 48HourPrint.com can facilitate your order as well, though they will not be able to offer you a guarantee up front your order will be turned around that quickly. Each custom job will need to be individually evaluated.
Cost/Price Plans
Obviously, the cost of your print job will be dependent on many different factors, including the type of item you want printed, the volume of the item, your ink choices, whether or not you want the item customized, and much more.
That being said, the website promises that the items they guarantee for fast turnaround are included in their standard pricing – customers will not pay extra fees for the fast turnaround prices, nor will they ever encounter hidden fees or charges. All they ask is that your order be successfully submitted and approved by their team by 8 pm EST.
Refund Policy
This website does not post a specific Refund Policy, other than to say that if you follow all the requirements on their website when ordering a job that qualifies for either 24 Hour Turnaround or 48 Hour Turnaround and they are still unable to fulfill your job in that promised time period, then the cost of printing your order will be completely refunded to you. That being said, this refund will not include the cost of shipping the product nor of the taxes paid on that job.
Customer Service Contact Info
Customers who wish to speak with Customer Service about their questions, concerns, or complaints can do so by submitting them directly to their website through their Contact Us link or by using their website's Live Chat feature whenever it is available.
Reputation
Unfortunately this company does not appear to have very many customer reviews published online, and those that are available are mostly mixed in nature, with some customers being very happy with their experience and others feeling that something was lacking.
In general it appears that the negative reviews focus on two different aspects of their service. First, that the quality of their products is very average. Customers did not complaint that the quality is bad, but rather than it wasn't necessarily impressive – more like what you would expect from an online company using pre-made templates and quickly turning your job around.
The second complaint is that both the 24 Hour Turnaround and the 48 Hour Turnaround are only available during the first half of the work week – the company says that these turnaround times are not available over the weekend, meaning that if you order 48 Hour Turnaround on Thursday, you actually won't receive your order until Tuesday. Some people found this limitation very frustrating.
If you have experience with 48HourPrint.com or their products, please leave your reviews below.
48HourPrint.com Customer Reviews

Life F
Did not turnaround and delivered 7 days after after promise time. It took and total of 14days to get make labs so I could not use because it was for a party.

Chad F
Downhill, they used to be great. :(
I have used 48hourprint in the past with great results.
Not so much now.
I ordered a product, and did not get a proof, they just printed and sent it to me. BUT, they sent me a smaller size, CHANGED my artwork without permission, in size, perspective and dimension.
I have corresponded with them through email multiple times, and they keep saying things like, "you have waived the proof right after you uploaded your artwork" (Not True) and "As I check and performed investigation on your order, as much as I would love to help you in this kind of situation, I can say that the order we received was actually the order we processed and printed" (also not true)
The worst part is that in multiple emails (all from different workers) they parrot the same faulty information, which I have corrected in every email. Their "investigation" has failed at every turn to address what I witnessed and experienced.
They continually offer a 20% discount on a future order (why would I order from them if they won't send me what I ordered?) so "yea!" for that. (sarcasm intentional)
I have tried to resolve this issue with them directly, but they do not seem to be interested in being professional and taking responsibility for their mistakes.
I don't mind working with companies that make mistakes, if they work to resolve them appropriately. Everyone errs occasionally. What is needed is to make it right.
48hourprint will not make it right.

Nick L
Very disorganized company
I couldn't pay by credit card, but then they charged me anyway and had the gall to ask me to dial in and pay manually, again! This is all with no print proof or email. When I called to get resolution, I got someone in India barely able to speak English. Save your frustrations and headaches and just go local.

Jackie C
excellent quality a very low cost! very happy!