48 Hour Print Reviews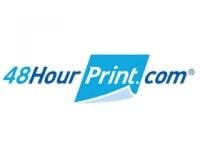 48 Hour Print is a printing services company which promises customers the utmost respect to their printing deadlines, stating that they have the ability to turn your printing jobs around in as little as 24 hours.
How Does It Work?
According to their website, unlike other online printing companies, the mission of 48HourPrint.com is to specialize in high quality printing services which can be turned around extremely quickly.
Their company says that they understand how many printing jobs may be needed quickly, and how critical it is for customers and businesses to be able to feel confident about receiving these printing materials on time, which is why they provide their customers the guarantees they do.
They offer their customers both 48 Hour Turnarounds and 24 Hour Turnarounds, depending on the type and number of products you order.
For customers who require a large volume printing job, or jobs that require "intensive finishing operations," they offer a 5 Day Turnaround.
Orders that qualify for these fast turnarounds are basic orders which can be done using their pre-approved templates.
If you're interested in a unique, custom order job, 48 Hour Print can facilitate your order as well, though they will not be able to offer you a guarantee up front your order will be turned around that quickly.
Each custom job will need to be individually evaluated.
Cost & Price Plans
Obviously, the cost of your print job will be dependent on many different factors, including the type of item you want printed, the volume of the item, your ink choices, whether or not you want the item customized, and much more.
That being said, the website promises that the items they guarantee for fast turnaround are included in their standard pricing.
Customers will not pay extra fees for the fast turnaround prices, nor will they ever encounter hidden fees or charges. All they ask is that your order be successfully submitted and approved by their team by 8 pm EST.
Refund Policy
This website does not post a specific Refund Policy, other than to say that if you follow all the requirements on their website when ordering a job that qualifies for either 24 Hour Turnaround or 48 Hour Turnaround and they are still unable to fulfill your job in that promised time period, then the cost of printing your order will be completely refunded to you.
That being said, this refund will not include the cost of shipping the product nor of the taxes paid on that job.
Customer Service Contact Info
Customers who wish to speak with Customer Service about their questions, concerns, or complaints can do so by submitting them directly to their website through their Contact Us link or by using their website's Live Chat feature whenever it is available.
Reputation
Unfortunately this company does not appear to have very many customer reviews published online, and those that are available are mostly mixed in nature, with some customers being very happy with their experience and others feeling that something was lacking.
In general it appears that the negative reviews focus on two different aspects of their service. First, that the quality of their products is very average.
Customers did not complaint that the quality is bad, but rather than it wasn't necessarily impressive – more like what you would expect from an online company using pre-made templates and quickly turning your job around.
The second complaint is that both the 24 Hour Turnaround and the 48 Hour Turnaround are only available during the first half of the work week – the company says that these turnaround times are not available over the weekend, meaning that if you order 48 Hour Turnaround on Thursday, you actually won't receive your order until Tuesday. Some people found this limitation very frustrating.
If you have any experience with 48 Hour Print or their services, please leave your reviews below.
48 Hour Print Customer Reviews

Chipo
Bad instruction, bad quality and rude customer support.
I ordered poster printing before, I made a data as their instructions show on the web site, but the printing quality was terrible.
Found out the format(or settings) they show doesn't work well.
I asked for a refund or to redo.
But they responded a week later, which was too late for the event I participated.
Because of their massive delay, I needed to order the same thing at a different store.
A customer support was rude too.
Not an honorable / trustworthy company.

L_Williams
Late Funeral Programs - no refund from 48HourPrint
We were trying to print funeral programs in October of 2022. We paid for expedited printing and delivery. They did not arrive on time for the funeral which created undue stress at a time that should have been focused on mourning. After requesting a refund for a week, we were not offered any compensation other than 20% off any future printing order. We had to run all over town locally the day of the memorial to PRINT new programs at a very high price due to the NOW RUSH order status. This took away time from our family where we could have been visiting with out of town family who came to mourn our loved ones passing.
Horrible company and even worse customer service. If you have anything that you value printing properly and in a timely fashion, stay far away from this money-grubbing, inconsiderate company.
48HourPrint Order #10190373
Total cost: $237.71
Reprinting of last minute RUSH programs at local printer: $300.00
Total cost: $537.71
Compensation from 48HourPrint: 20% off any FUTURE order

Bailey S
Very disappointed. We are a nonprofit and our order was delivered 2 days late AND broken. We never got a refund. Poor quality and poor customer service.

Theresa
48HourPrint does NOT care about their customers!
Worst customer service experience ever.
I ordered metallic thank you cards for my small business, and sent the design in promptly. I was instructed to make the areas to be metallic in a "cyan color." I did as instructed, and was as clear as possible that I was following the instructions for the cyan color to be where the gold metallic should go.
The cards arrived, and they were in cyan metallic.
Annoying, but luckily it wasn't an urgent order. I contacted their customer service about the issue and waited.
And emailed again. And waited.
And emailed again... And waited.
After a couple weeks I finally called them and was given the runaround, saying someone would call me.
Finally someone called, named Amber, and she admitted that she was wrong in confirming with the "design team" that cyan was the correct color. She admitted it was her fault, and I was just glad that 48HourPrint saw it that way.
She asked me to send her a proof of what the card should look like, and I did.
Then I was sent an invoice for the new order.
When I again contacted customer service about this I was ghosted AGAIN for weeks.
I continued to email with no response back.
Then I got on their online chat and when I explained the situation I was told my "request was denied" and they ended the chat while I was still typing.
So basically I spent over $500 on unusable cards because of their error which they refuse to fix.
Should have read the reviews first. Lesson learned.
TL;DR 48HourPrint admitted they made a mistake on my cards (making them unusable) yet refused to refund me or send me new ones (without me paying full price to get them). Customer service is horrendous.
DO NOT SHOP HERE!!

Pinnacle R
Paid for 1 day turnaround and 2 days shipping - Received in 8 Days
Order #09569855
I received the very small box containing the stickers well after I left for our event early this morning at 8:00AM on 05/31/22.
The shipping label states USPS Parcel Select otherwise known as USPS Retail Ground
I weighed the box I received, enter both our zip codes and USPS created the shipping costs below:
USPS Retail Ground (The method you shipped) $10.85
Priority Mail 3-Day $11.75
Priority Mail Express 1-Day $46.30
I ordered on 5/24/22 at 7:00AM
Paid for one day processing and two day shipping. Both of these were additional costs. The two day shipping was $59.92
Ordered not shipped until 5/26/22 and this little box all 1# 10oz was shipped via the slowest USPS parcel select. Ensuring I wouldn't receive it on time and didn't receive until 5/31/22 some time in the afternoon after the event I ordered for.
You will find the order I placed below showing I paid $59.92 for 2 Day shipping. This would have more than paid for Priority Mail Express 1-Day shipping at $46.30 and still giving your company a profit of $13.62 on the shipping alone.
If this was done on Thursday by 8PM I would have received the box on Friday by 6PM
If this was done on Friday by 8PM I would have received the box on Saturday by 6PM
Not sure what happened?
Please refund my entire order to my credit card. If you would like I will show you the unopened box and the labels I had to print myself yesterday so I would have them for this event.
Project Name: Pinnacle Stickers
Item Number: #14881406
Category: Stickers
Shape: Square/Rectangle
Size: 2" x 2"
Material: White Vinyl Sticker
Coating: High Gloss UV
Printed Side: Front Only
Quantity: 1,000
Rounded Corners: No
Shrink Wrapping: None
Turnaround: 1 Business Day
Proofing: Proof Waived
2 Day Transit
Pinnacle Real Estate Marketing
$125.49
Subtotal:
Discount:
Shipping & Handling:
Tax: $125.49
-$37.65
$59.92
$9.60
Order Total:
Total Paid: $157.36
$157.36
From: Pinnacle Real Estate Marketing
Sent: Sunday, May 29, 2022 1:43 PM
Subject: FW: Job Order # 09569855
Hello Mark,
My order arrived at hub in Cape Coral at 6:00AM this morning.
I do not know where the hub is although it is not going to be delivered today Sunday or Tomorrow Monday and will not be delivered until Tuesday afternoon when my regular mail delivery occurs.
Why wouldn't this be shipped UPS 2 Day Air or USPS Priority Mail or USPS Next Day Air or FedEx Express Delivery
So many ways to ship 100 sheets of paper. Instead you shipped it DHL on Thursday already one day late for one day processing as order was placed on Tuesday and should have shipped Wednesday.
Knowing that you are already one day behind in processing why send this package via DHL to USPS when I paid for 2 day shipping at $60
I am really disgusted by the entire process as I can order so many items on a Friday and have them delivered with 2 Day delivery and delivered on a Sunday.
The company has serious issues with logistics, processes and customer service with no concern with how important an order is especially when the order has one day processing and two days delivery paid for. That should have equated to three days at most. Instead I will receive this order at 8 days after placing the order.
Please cancel and refund my money. Unbelievable for a company that names themselves 48hourprint
Sent: Saturday, May 28, 2022 6:00 PM
To: Marc Weiskopf
Subject: Job Order # 09569855
Phone Support
1-800-844-0599
Job Order # 09569855
Hi Marc,
Mark here, I do apologize, we are still trying to contact the courier regarding with this concern.
If ever the order didn't arrrive until the end of the day, please kindly contact us back immediately.
We will keep you posted regarding the status of the delivery.
Thank you.
48 Hour Print Customer Support
8000 Haskell Avenue
Van Nuys, CA 91406
P: 1-800-844-0599
F:
©2022 48 Hour Print
8000 Haskell Ave. Van Nuys, CA 91406

Life F
Did not turnaround and delivered 7 days after after promise time. It took and total of 14days to get make labs so I could not use because it was for a party.

Chad F
Downhill, they used to be great. :(
I have used 48hourprint in the past with great results.
Not so much now.
I ordered a product, and did not get a proof, they just printed and sent it to me. BUT, they sent me a smaller size, CHANGED my artwork without permission, in size, perspective and dimension.
I have corresponded with them through email multiple times, and they keep saying things like, "you have waived the proof right after you uploaded your artwork" (Not True) and "As I check and performed investigation on your order, as much as I would love to help you in this kind of situation, I can say that the order we received was actually the order we processed and printed" (also not true)
The worst part is that in multiple emails (all from different workers) they parrot the same faulty information, which I have corrected in every email. Their "investigation" has failed at every turn to address what I witnessed and experienced.
They continually offer a 20% discount on a future order (why would I order from them if they won't send me what I ordered?) so "yea!" for that. (sarcasm intentional)
I have tried to resolve this issue with them directly, but they do not seem to be interested in being professional and taking responsibility for their mistakes.
I don't mind working with companies that make mistakes, if they work to resolve them appropriately. Everyone errs occasionally. What is needed is to make it right.
48hourprint will not make it right.

Nick L
Very disorganized company
I couldn't pay by credit card, but then they charged me anyway and had the gall to ask me to dial in and pay manually, again! This is all with no print proof or email. When I called to get resolution, I got someone in India barely able to speak English. Save your frustrations and headaches and just go local.

Jackie C
excellent quality a very low cost! very happy!