3 Day Blinds Reviews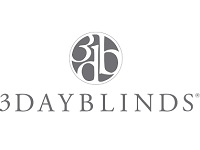 3 Day Blinds is a home goods website specializing in window coverings that promises their customers high quality blinds and drapes at reasonable prices.
How Does 3 Day Blinds Work?
According to their website, 3 Day Blinds provides their customers with the personalized attention and expertise needed to make sure that the window coverings they purchase will be suitable for their home and their needs.
To get started you can go to their website and schedule an in-home design consultation with one of their professionals. The website says that because they are not only the distributor of the window coverings but also the manufacturer, they can guarantee their customers a perfect fit and quick delivery.
Customers can go to their website and search through their inventory for an idea of the products they can offer you, including Blinds, Shades, Shutters, Curtains/Drapes, Inspiration, and their Resource Center.&nbsp
&nbsp
Customers can also search for blinds by Room, including Living Room, Dining Room, Kitchen, Bathroom, and more, as well as by Design Style, including Classic & Traditional, Modern & Eclectic, and Transitional & Casual.
Cost/Price Plans
The in-home design consultation that customers will use to receive their estimate is completely free of charge. During that meeting, you'll discuss the type of window coverings you are interested, the number and measurements of the windows that need to be covered, and the cost of installation, so that you understand what the final cost will be to you.
Refund Policy
This company does not appear to offer a Refund Policy. Rather they offer their customers a very detailed Warranty Policy which explains the coverage they offer for each individual component of their window coverings, and the amount of time after installation that component is covered by their Warranty.
Please refer to this page of their website to see what kind of coverage you can expect if you purchase a product from this company.
Customer Service Contact Info
Customers who wish to speak with Customer Service about their questions, concerns, or complaints can do so by phone at 800-700-1860, by email at [email protected] or at [email protected] depending on your circumstances, or by using their website's Live Chat feature when it is available.
Reputation
Unfortunately it appears that this company does not have the best reviews. While they do have some positive reviews, speaking of the quality and the quick turnaround for installation, many of their reviews come from customers who are very upset and dissatisfied.
These customers generally have the same complaint – a simple misrepresentation of the product they were being provided with in combination with poor Customer Service and lack of assistance when they called the company to complain about what they had received and how it did not match what they had ordered.
This is an issue that could be expected from a company that does not provide refunds, but only warranties for installed products.
Competitors and Alternatives?
There are many other home goods companies as well as window covering companies available online. Perhaps the best way to find a company that fits your needs is to consider what kind of window covering you would like, whether or not you prefer the company to install them for you, and what your current budget is.
If you have experience with 3 Day Blinds or their products, please leave your reviews below.
You may also be interested in
3 Day Blinds Customer Reviews

Ron M
We placed an order for 11 blinds and were told they would arrive in 30 days. Called the company after 30 days and it seemed they misplaced our order.
It took an additional 30 days to receive it and the company would not cancel the order as we already noticed that they are not organized. 2 of the 11 blinds that arrived were defective. A technician came within days and concluded that the 2 needed to be replaced.
Again, we waited and finally called, as the supposed follow up was supposed to be within 48 hours. It took weeks to get someone to actually respond. Needless to say 6 months later and 8 of the 11 blinds are malfunctioning.
The company only replied when we called the credit card company to dispute. if you are looking for a company that does not honor their policy or promises than this is the right place. Otherwise, STAY AWAY, they have horrible service, bad materials, and do not reply unless threatened.

Leah C
First, I am a repeat customer of 3Day Blinds. For my most recent order, I met with 3 Day Blind Consultant HEIDI INGERSOLL ALLEN on 5/20/2019 and chose window treatments for multiple rooms in my home. I shared with the consultant that the reason for needing these window treatments was because my 3.5 year old twin daughters had just changed bedrooms and were having trouble sleeping, so we needed the window treatment ASAP. The consultant explained that because they were a special order, it would take up to two weeks. I was disappointed that it wouldn't take "3 days" but she assured me that the turn around time was "up to two weeks, so maybe they would arrive sooner." I agreed to this and signed the contract. On Day 16 from making our order, I realized we hadn't heard a word from 3Day Blinds, so I sent the following email to my Consultant:
Hi Heidi,

It seems like it's been longer than we expected since we ordered the window treatments, but we haven't heard anything from anyone. Can you please check the status of our order?
The consultant's response was as follows:
Hi Leah, the invoice dates are showing delivery between 6/7 and 6/14, so no, it's not past the due date. 

I felt like her response was a little on the rude side for customer service so I responded explaining that I was confused because she expressed that the order would take two weeks, could I just cancel the order if they were not able to perform. Here was her response:
Hi Leah. I said it would be approx 2-3 weeks which is typical for an order that includes a specialty item, I know that most customers want to hear the 2 and not the 3. I'm sorry I cant't do anything about the delivery date, the signed invoice reflects the order as discussed. The 3 day right to rescind expired May 23, so cancellation is not an option. Anyway theres no other company that can do it even remotely close to our time frame, especially not "immediately". And you were not charged for any sort of rush. In fact the shipping fee was discounted due to the specialty item taking longer to produce and ship out. I'm sorry you're disappointed with the timing but this is what we reviewed when the order was placed. I'll check status on the remaining item and update u tomorrow. I've sent a copy of this email chain to customer service so they're aware of your situation.
Again, her response came off as rude to me and this further frustrated me. I most certainly did not "hear what I wanted to hear." In fact, on the day of placing the order, Heidi and I had a specific conversation about me being disappointed that it would take two weeks and she assured me that it was "up to two weeks, so perhaps sooner." There was no mentioned of "2-3 weeks."
I've patiently been waiting since my last correspondence with Heidi as I felt I would not get anywhere continuing to speak with her. Finally, today on 6/17/2019 I received a call from the install department that my order has arrived. However, they cannot install until Wednesday, June 26, 2019. I confirmed that this is their soonest availability. This puts the order arriving to my home and being installed exactly 37 days AFTER I made an order that was supposed to only take "up to two weeks."
I'm extremely disappointed with how long this project is taking as well as the follow up responses I've received from my 3Day Blinds consultant. I do not feel that I have been treated professionally or courteously and wish I could just cancel the order and be returned my money. My daughters have continued to have trouble sleeping, which has affected our entire household. If I had known before making the order how long this would truly take, I would never have ordered and I would have just installed window treatments myself. My 3.5 year old daughters are suffering because of 3Day Blinds unprofessionalism and failure to follow through. I do not wish to continue to have any business with 3Day Blinds. Please cancel my order and I will remove all of my negative reviews of your company.

Rokoko I
A great business to deal with window blinds! Highly recommended!