1Sale.com Reviews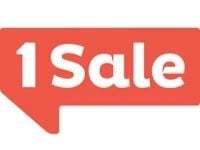 1SaleADay, found at 1Sale.com, specializes in providing users with daily deals, which are items that are sold at deep discounts for a short period of twenty-four hours.
How Does It Work?
A daily deal, or flash sale, website is a type of website where a company offers a very select group of items at an extremely discounted sale for a period of just 24 hours.
At 1Sale.com, daily deals are posted at midnight Eastern Time and lasts for a full 24 hours or until they are sold out.
The items they sell each day are divided into five categories; Electronics, Home & Family, Watches, Fashion & Jewelry, and Credit Cards.
According to their website, this is the place you will find the absolute lowest prices on items in these categories.
While most items available at 1Sale.com are new and in original packaging, others may be refurbished.
To check the condition of the item, look at its Specs page. This page will also tell you whether or not the item is still covered under a manufacturer's warranty.
Cost/Price Plans
Since they sell different items each and every day in a variety of different categories, there is no set price range available for the products you will find at 1Sale.com
Refund Policy
This website does not offer cancelations on orders or refunds on any product you purchase unless you receive a product that is defective.
If you do receive a defective product, you have 21 days from the day you receive it to contact their Customer Service for a Return Authorization Number to complete your product return to get your refund.
Customer Service Contact Info
Currently it appears that the only way to contact their Customer Service team with your questions, concerns, or complaints is by submitting them directly to their website through their Contact Us link.
Reputation
Unfortunately this company has very mixed reviews with many upset customers complaining about the quality of the products they have received when they order from this website.
In addition, customers complain that even when they have received a defective product, the Customer Service team would not help them in making an exchange or receiving a refund.
If you have any experience with 1SaleADay or their products, please leave reviews below.
You may also be interested in
1Sale.com Customer Reviews

Charlotte E
Poor service, not so user friendly as I expected.

raj
all the deals are great... i like it... am happy to to view the website...

Graham C
I am love with the deals. Just superb!

Jeff
Made a purchase throuh their site once, they offer some good deals from time to another.