1SaleADay Reviews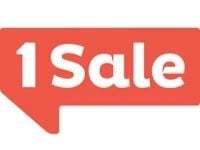 1SaleADay, found at www.1Sale.com, specializes in providing their customers with daily deals, which are items that are sold at deep discounts for a short period of twenty-four hours.
1Sale.com offers their daily deals in five different categories. Their Main category offers a general item, then they have a category for Wireless Items, Watches, Family Items, and Jewelry.
Every deal available at 1SaleADay begins at midnight and is only available for twenty-four hours. If you are unable to purchase an item during the twenty-four hours it is available, you'll have to wait for that item to be on sale once again.
To purchase a daily deal, simply click the Be a Buyer button on the item's page and the website will walk you through the process you need to complete the sale.
While most items available at 1Sale.com are new and in original packaging, others may be refurbished. To check the condition of the item, look at its Specs page. This page will also tell you whether or not the item is still covered under a manufacturer's warranty.
They also have a Chunk of Junk special, which is a box of items randomly selected the past deals. The box is sold for $5 plus shipping, and it's only offered a few times a year.
Once your order is placed, there is no ability to cancel your order, due to the strict time constraints. Unfortunately, if you have any complaints about your order, there are no returns possible unless your item is defective, in which case the item can be replaced. If 1Sale.com is sold out of your item, then they will refund your money.
If you have any experience with 1SaleADay or their products, please leave your leave your reviews below.
You may also be interested in
1SaleADay Customer Reviews

Charlotte E
Poor service, not so user friendly as I expected.

raj
all the deals are great... i like it... am happy to to view the website...

Graham C
I am love with the deals. Just superb!

Jeff
Made a purchase throuh their site once, they offer some good deals from time to another.