1MD Complete Probiotics Reviews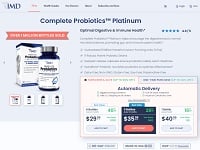 1MD Complete Probiotics, found online at 1MD.org, is a health and wellness supplement that promises to help people reach their own personal optimal digestive health.
How Does 1MD Probiotics Work?
According to the website, the 1MD Complete Probiotics Platinum is the ultimate multivitamin for your microbiome, gut, and digestive system. Using probiotics to promote a healthy bacterial balance in your digestive tract has the ability to improve your overall health.
There are many different probiotics on the market, but the 1MD website states that their probiotic has a stronger bile and acid resistance which ensures its ability to colonize and thrive in your gut.
Without this resistance, they claim, gut bacteria will not be able to survive the harsh environment of the digestive tract and taking a probiotic becomes useless.
Ingredients and Side Effects
1MD.org states that there are many different probiotic supplements on the market that use only one or two strains, but their probiotic uses 11 individual strains. 1MD claims that using a diverse collective of bacteria strains offers the best opportunity to promote optimal bacterial balance.
These 11 different strains are listed on their website as being: ifidobacterium lactis B42L, Lactobacillus acidophilus L61A, Bifidobacterium longum B12L, Bifidobacterium bifidum B66B, Lactobacillus casei L30C, Lactobacillus plantarum L23P, Lactobacillus gasseri L22G, Lactobacillus salivarius L1OS, Lactobacillus rhamnosus L08R, Lactobacillus bulgaricus L88B, and Lactospore® (bacillus coagulans).
Cost/Price Plans
Currently a single bottle of this product is priced at $49.00, but customers who choose to purchase this product in larger volumes will be eligible for a per bottle price discount.
When you buy three bottles the price will be $43.00 per bottle, while buying six bottles will drop the price to $37.33 per bottle.
Refund Policy
1MD provides their customers with a 90 day Return Policy. They ask that customers return their order within 90 days of the original date of purchase and that you contact their Customer Service team by phone before sending your order back.
Inside your return package you must include all bottles that were purchased in the original order, regardless of whether or not they are opened, fully used, or unopened. If all bottles are not returned, it is unclear if they will be able to successfully process your refund.
Customer Service Contact Info
Customers who would like to contact Customer Service with any questions, concerns, or complaints can do so by phone at 888-393-4030 or by submitting them directly to their website through their Contact Customer Service link.
Reputation
In general it seems as though the 1MD Complete Probiotics Platinum seems to get fairly positive reviews at this time, but there are still some concerns that customers have.
First, the price of this product is higher than many other similar probiotics, which means that not all customers will be able to afford it on regular basis.
In addition, some reviewers have pointed out that 11 strains of probiotics are not actually necessary for all customers and may even lead to upset digestions for some users. Because of this, customers will want to pay close attention to how their bodies are responding to this product.
Competitors and Alternatives?
Most customers who are familiar with probiotics are aware that there are many, many different options available on today's market, all with different strains and purposes and at many different price points.
Customers will want to consider what health problems they are hoping to alleviate and then find the best product suited to their needs before finding the right alternative.
If you have any experience with 1MD Complete Probiotics, please leave your reviews below.
You may also be interested in
1MD Complete Probiotics Customer Reviews

Andrea M
Their checkout is exhausting. They try and upsell other products through multiple screens at checkout. I accidentally added something to my cart. Realizing my mistake, I did not complete checkout but I was still charged for both products. I immediately contacted them. No refund issued and order still shipped. They are crooks!

Jana L
No one to help with problems
I placed a bulk order 6 months ago and didn't realize with the discount comes a subscription , I don't do subscriptions because I move several times a year . Now 6 months later they take another 179 dollars out my account being shipped to a wrong address with no one to help me with an address change or refund , no one answers the number they provided or replies back to email guess I have to cancel my card through my bank which sucks but buyers beware !

sduffy067
Company does not fix order issues
I ordered incorrectly (three bottles instead of one)- I contacted 1md minutes after my order went through to correct the issue. I received an email saying that they would change the order from three bottles to one and refund me the difference.
Fast forward to a few weeks later. I receive three bottles of probiotics in the mail and no refund was issued. I have emailed them twice about this issue with no response.

Mariam R
Great service, great product, and fast shipping!
My doctor recommended i should take probiotics for my IBS. I have been taking this daily for the last couple of month and I can say that I have seen an improvement already.

Rami A
Your product its a waste of money for me, I have tried it for more than a year, a 90 days, it's not enough time to judge or asked to return the money, now I'm being refused for my hard working money, it's a shame I'm glad I found @ancientnutrition They stand behind their product 0