100 Percent Pure Reviews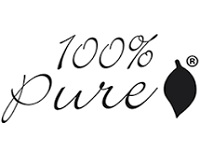 100 Percent Pure is a manufacturer of completely natural and harmless cosmetics. The owners are enthusiastic about keeping the production process as clean as possible. This primarily means using only healthy natural materials.
Also, the processing of the ingredients is mostly left to nature as well. This includes natural fermentation processes without any chemical interference from humans. That's how they get healthy and skin-friendly blends.
They state that their goal is to make the most effective makeup and skin care products. With this aim in mind, they have worked and explored - the end result being Susie's patented formula.
She has found a way to stabilize the active components. That's how they are protected from oxidation, which releases harmful free radicals. Usage of this technology has made their products even safer.&nbsp
&nbsp
All in all, they give their best to make the healthiest and the most positive change. This effort was recognized by the city of San Jose. Hence, their manufacturing facilities have been rated as the most environment-friendly.
Products
100 Percent Pure makes everything you might need when it comes to cosmetics. Skin care, makeup as well as body and hair products are all to be found in their assortment.
The skin care section certainly has you covered. It offers cleaning products like cleansers and toners. Also, there are moisturizers and eye creams to pick from as well as SPF products for sunny days.
You can also do your search on the website based on the skin type you have. In other words, they have definitely thought about everyone. The makeup they offer is quite encompassing as well. You can find anything - whether you need a healthy foundation or a lasting lipstick.
Foundations are available in a wide range of shades and forms - there's powder, matte, or regular. You can even pick pigmented moisturizers for light makeup variants.
Concealers have a few versions and a wide range of shades, so you should be able to find the one that is suitable for your skin. Mascara is another everyday product that you can pick up from 100 Percent Pure stores.
It comes in a few colors and two variations – lengthening and volumizing. These two are as effective as your regular mascaras. However, they are based on maracuja oil and fruit pigmented. This means they are completely harmless and healthy.
For a more effective look, you'll need a good lipstick as well. You can choose from the several different versions 100 Percent Pure offers. Whether you like darker or lighter colors, you should be able to find it in their assortment.
Additionally, there is an anti-aging lipstick version as well and lip gloss and even lip butter are available. These are all fruit pigmented, so you definitely won't find any hazardous chemicals in these makeup items.
Their Body and Hair Care section has everything necessary for daily care. There are shampoos, conditioners, body washes, scrubs and plenty more.
Cost and Price Plans
One could say that the prices at 100 Percent Pure are a bit higher than the mainstream brands. However, it seems fair when you take into consideration the amount of work put into these products.
The attention and care that is given to each product and its effects on your health are worth the extra dollar. In case you would still like to save a bit, there is a "Last Call" section on their website. You can find all the products that are almost gone usually for half the price. This is a significant feature in case you're trying to be thrifty and still stay healthy.
Online Reviews/Complaints
If you were wondering at some point whether this brand is legit, worry no more! There are plenty of online reviews to confirm their existence and high quality. These customers are quite thrilled with these products, so there's no doubt that the 100 Percent Pure team is doing a good job.
The all-natural approach to production is appreciated the most. Additionally, online reviewers point out that the prices are quite fair. The performance of the makeup is not left out either. It is said to be gentle and doesn't irritate even the most sensitive skin.
However, although it's gentle on the skin, it's tough on the imperfections and manages to successfully cover them up.
Where to Buy?
100 Percent Pure cosmetics is widely available. Of course, there is their website 100PercentPure.com. There, you can order the products you like and need. Otherwise, you can visit one of their retail locations.
There are many stores in California as well as a couple in Washington and Maryland.
The Bottom Line
Taking care of your looks doesn't have to exclude caring for your health. 100 Percent Pure is among the cosmetics manufacturers who have think safe makeup products are necessary and decided to act on it. This means using all-natural materials in production.
They give you the opportunity to keep yourself healthy while looking your best and they work towards nature's well-being too. They leave almost no ecological mark, so they provide a chance for a healthier future for generations to come.
You may also be interested in
100 Percent Pure Customer Reviews